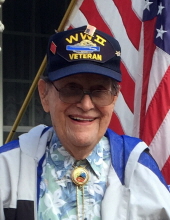 Clifford Howard Wilford, a highly honored and much respected WWII Combat Veteran, 93, of Danville, IL, passed away on July 6, 2017 at 5:29pm. He was born January 18, 1924 in Middlesboro, KY. He was born and raised in the Appalachian Mountains to his parents, William F. Williford and Sarah Elizabeth Reed Williford. He joined the Army at the age of 16 on October 20, 1940. His unit was the 10th Infantry Regiment at Fort Thomas, KY. He was deployed to Iceland before the start of WWII, relieving
the British Army. They guarded the shores protecting the Naval bases and shipping lanes. He was then sent to England and Ireland for training for the D-Day Invasion of Normandy. His unit landed on Utah Beach. After the landing, the 10th Infantry Regiment became part of the 5th Infantry Division of the 3rd Army commanded by General George Patton. The 10th Infantry participated in 5 European campaigns, 23 river crossings by assault, the taking of Angers, Fontainebleau, Rheims, Metz, the Battle of the Bulge, and through the Siegfried Line across Germany. Recently, he was awarded the "French Legion of Honor" medal, the highest distinction awarded by the French Government, for his bravery in the liberation of France from the Germans.

After victory in Europe, he returned to Kentucky where he met his wife of 45 years, Jewell Studdard. He was trained as an electrician in the coal mines of Harlan County where all 3 of his children were born. He moved the family to Michigan in the early 50's to work in the auto industry. He attended night school at the University of Michigan and received his degree in Electrical Engineering. He retired from General Motors as "Superintendent of Environmental Services".
After the death of Jewell, he married Cathy Black of Elkmont, AL. He had a deep faith in God and lived his life in a way to bring glory to his Lord and Savior, Jesus Christ. He had many interests before and after retirement. He loved to write music and play his guitar. He could play any stringed instrument and the piano. He has many copyrighted songs, his music has been recorded, and he has played at the Grand Ole Opry. He loved to net and band birds and he kept a log for the National Audubon Society. He was an active member of the Masonic Lodge, was a Master Mason, and on the membership roles for just short of 65 years. He was an avid golfer who was on the links as much as possible. He traveled with his first wife, Jewell, on numerous trips to Europe to retrace his time spent there during the War. Later in life, with his second wife, Cathy, he enjoyed watching the Atlanta Braves baseball and Alabama football, Roll Tide. He loved desserts after dinner and we'll never forget his love for peanut butter on those desserts. He taught his children to live life with love of family, compassion and respect for others, and a work ethic to do the best you can. He was the personification of the Greatest Generation, a true American Hero. He lived the American Dream.

He was preceded in death by: his wife, Jewell L. Wilford; his sisters, Elsie, Lillie, Dalley, & Dorothy; his brothers, Thomas, William, Jacob, Dewey, Jake, & Bud. He is survived by: his present wife, Cathy Black Wilford of Elkmont, AL, and her two sons, Jimmy (Wanda) Black of Rodgersville, AL, & Mickey (Teddy) Black of Paducah, KY; a sister, Beulah Sutton of Middlesboro, KY; his daughter, Carolyn Sue Hall (Jeffery, deceased) of Hilton Head, SC; and his sons, Gary Lynn (Judy) Wilford of Georgetown, IL, & Howard Eugene (Gloria) Wilford of Fort Mill, SC; his 10 grandchildren, Kevin Wilford, Kelli Wilford Voss, Shane Wilford, Rebekah Wilford McGuirt, Jonathan Wilford, Joshua Wilford, Jeffery Hall Jr., Jeremy Hall, Christina Wilford Gherna, & Melissa Wilford Wilson; his 21 great grandchildren; and his one great-great grandchild.

A celebration of Clifford's life will be held at 11:00am, Thursday, July 13, 2017, at Stark Funeral Home, Ypsilanti, MI. Visitation will be 4:00pm to 7:00pm, Wednesday, July 12, 2017 at the funeral home with Masonic rites at 6:30pm. He will be laid to rest in Washtenong Memorial Park, Ann Arbor, MI. Memorial donations may be given in his name to Gary Sinise Foundation, PO Box 50008, Studio City, CA 91614-5001 (www.garysinisefoundation.org)