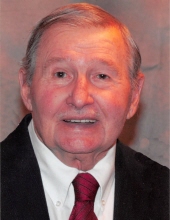 Theodore J. 'Ted' Vacketta, Sr., 80, passed from this life on February 19, 2017 at his home in Danville, IL, surrounded by his loving family. Ted was born on November 9, 1936 in Danville to Ore W. and Catherine (Pearson) Vacketta. He grew up in Humrick, IL, then moved to Westville, IL in 1950, graduating from Westville High School in 1954.
Ted married Linda Lou Kern in 1954 and they would have celebrated 63 wonderful years of marriage this year. He was preceded in death by both of his
parents and an infant son, Mark William Vacketta. Ted is survived by his wife Linda and their children Cydra (Olav) Christensen of Danville, Ted Jr. (Betsy) Vacketta of Danville, Gregor Vacketta of Danville, and Carla (Rich) Henry) of Urbana, IL. Grandchildren include Reverend Jessica Vacketta of Fort Worth, TX, Tove (Justin) Adams of Danville, Leslie (Greg) Schebler of Livermore, CA, and Catie and Sara Henry of Urbana. His great-granddaughters, who he referred to as his "little dolls", are Lily and Penny Schebler of Livermore, CA. Also, knowing Ted as Grandpa are Julie (Paul) Beer, and Neil Christensen.

Additional survivors are Ted's brother Jerald Vacketta of Oakwood, IL, sister Betty (Joe) Pintar of Danville, and sister-in-law Connie Pierce of Westville, as well as numerous aunts, nieces, nephews, and cousins. Other close family members preceding Ted in death were his mother-in-law Mary Cruppenink, sister-in-law Harriet (Jerald) Vacketta, brother-in-law Tom Cruppenink, nephew Brad Carter, and niece Christine Cruppenink.

Ted started his career in construction as a young boy working for his father. Early in his adult life, he worked as a draftsman at the former Elliott Lumber Company, moving on to engineering draftsman at Tee-Pak, and then returning to his father's general construction firm, Ore W. Vacketta & Sons, Inc., first as an estimator/project manager, and ultimately leading the company as its President. He retired from his professional career in 2004. Ted was known by his peers and associates as an honest hardworking individual who would always treat you fairly and give you his best effort in whatever he did.
In 1965 Ted joined Further Light Lodge #1130, and received his certificate from the Grand Lodge of Illinois A.F. & A.M. in 2015 as a fifty-year Master Mason.

Ted loved all types of sports and games. He participated in football and track in high school, played many years of church softball, and coached little league baseball. However, his favorite sport was golf, which he played most of his adult life. In his prime he carried a handicap in the mid-single digits, and ultimately experienced the thrill of a hole-in-one on two separate occasions. One year he was crowned the Club Champion at the former Vermilion Hills Country Club. Ted loved to bowl and participated in mixed leagues with Linda for several years. Card games of all types were enjoyed, especially euchre, bridge, and poker. He was a perennial favorite at the annual Vacketta Family Reunion Bocce tournament.

Ted will be greatly missed by his family and many friends, but we are thankful that our lives have been enriched so much by his presence and love.

Visitation will be held on Thursday, February 23, 2017 from 4-7PM at Sunset Funeral Home and Cremation Center in Danville with Masonic Services from Further Light Lodge #1130 at 7:00PM. Funeral service will be held on Friday, February 24, 2017 at 11AM with Rev. Jessica Vacketta officiating. Burial will be at Sunset Memorial Park following the service.

In lieu of flowers, the family requests that memorial contributions be offered in Ted's name to Carle Hospice Home Services 611 W. Park Street Urbana, Illinois 61801, or Danville Central Christian Church Foundation, Inc., Danville, IL. Please join Ted's family in sharing photos and memories on his tribute wall at www.sunsetfuneralhome.com